Audioengine P4 Review and Expert Opinions
I have speakers all over my house because music is such a huge part of who I am – Nikki Reed
The details are everything. Nietzsche once proclaimed that the devil was hidden in their midst to try and encourage his fellow citizens and students to examine the seemingly insignificant things that surround us as that was, and is where true beauty lies.
Obscured by every day insignificance and concealed by the apparently mundane, the things that make life really living are always cloaked in plain sight, and if we don't take the time to slow and see what's right front of us, we will as Bruce Lee mused in Enter the Dragon, "miss all of the heavenly glory".
It's easy to overlook a set of passive speakers. In an age where audio technology is continually moving forward in leaps and bounds and we're encouraged, as audiophiles, to invest in subwoofers and active speakers in order to make the most of the thing we cherish more than anything else, it isn't surprising that sometimes we forget about the simple things.
We're supposed to think that passive speakers are best left in the past, that they've served their purpose and it's time to move onto bigger, brighter, and bolder ways to listen to music. But that simply isn't true.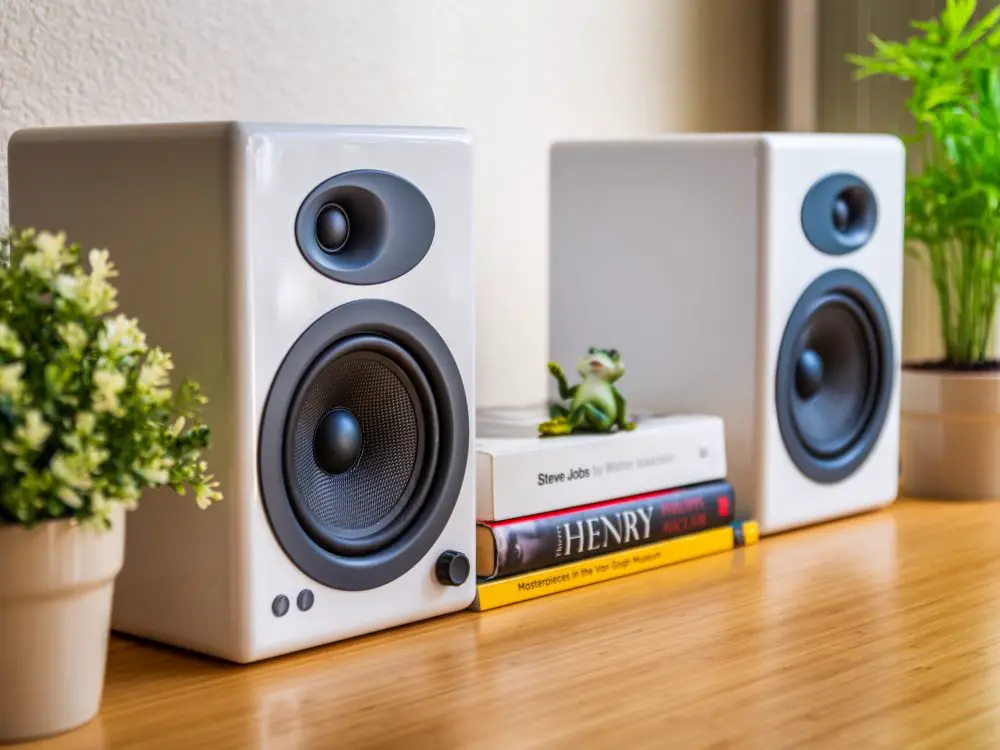 The more we add to our stereo systems, the more we inevitably ended up losing as the warmth, soul, and passion that is imbued in music slowly fades into a bunch of meaningless ones and zeros that sound familiar, but ultimately lack depth and strip away the emotional connection that exists between an artist, their music and their audience.
Speakers shouldn't get in the way of that relationship, they should be passive conduit that allows you to feel and experience every note and nuance as it washes over and submerges you in a wall of glorious noise and joy.
Audioengine understands that, and that's why they embraced and decided to repurpose the passive speaker to let it once again assume its rightful place in the musical lexicon of audio equipment.
Believing that music is always best enjoyed in the way that those who made it wanted it to be heard, we subscribe to the same musical philosophy that Audioengine does.
That's why we needed to hear their P4's in action, needed to experience what they were capable of doing for ourselves, and enjoy music the way it was meant to be heard according to Audioengine.
Even though they've got less than two decades of audio design and engineering experience behind them, Audioengine's comparative youth isn't a burden, as they have a desire and hunger to prove themselves that many of their older contemporaries seem to have either lost, misplaced or forgotten.
And that yearning to strive for excellence at every turn is built into every single atom of these passive speakers.
If Looks Could Kill…
Straight out of the box, the P4's are beautiful to behold. Available in three different designs, or more accurately finishes, we chose the top of the line, carbonized bamboo model and as soon as we saw them, we knew we'd made the right choice.
They've got a wonderful retro appeal that's offset by the gorgeous cones that the speakers are built around. If looks could kill, these passive speakers would have been the death of us the minute we unpacked them.
Don't be fooled by the fact that Audioengine refers to them as bookshelf speakers, as they've got a three-way mounting system built in them, that'll allow them to be fitted onto brackets and wall-mounted or fixed to any stands that you want them to in order to achieve your desired set up.
The Set Up
Being old school music fans, we tend to follow the letter of the law and as Audioengine said that these speakers were bookshelf speakers, we took them at their word and placed them where we thought they should be situated. On either end of a bookshelf.
As they're only nine inches high and six inches deep, we already had plenty of room for the P4's, as they were smaller than the speakers that we had, up until they arrived been using.
They're also lighter than our old speakers, and while that's partly due to the material that they're made from, it's mostly due to the fact that the four-inch drivers that these passive speakers use are made from Kevlar, which makes them lighter, much more responsive and far stronger than the traditional steel wire other speakers use.
And according to whether or not you actually believe in such things, Kevlar apparently reduces the amount of vibration that the speakers are beset by when you turn the bass all the way up.
We're mid-range fans, we tend to like to hear the music the way it was meant to be heard, so we kept the bass down and turned the volume up, and let these front-facing speakers do all the talking.
One last thing, apart of course from the gold plated connectors (we wouldn't have expected anything else from a brand with the sort of reputation that Audioengine has acquired) which made completing the set up easy, one additional design touch that did impress us, was the inclusion of a level of foam on the speakers base.
Audioengine padded the base so that you can increase if you so wish, the amount of bass that these passive speakers can pump out without falling victim to unwanted vibration, It was a nice touch that proved that Audioengine, just like we do, believes that the details are all important.
Turn It On, Turn It Up
All that was left for us to do, after connecting them was to turn our system on and turn the speakers up. That was exactly what we did and we were more than pleasantly surprised by their response.
Audioengine is on record as stating that these speakers operate in the region of fifty seven hertz, and having been ever so slightly blown away by their response, we have no reason to doubt them and are more than prepared to take them at their word.
As we said, we're mid-range junkies, but we wanted to push these speakers as hard as we could, so we turned the bass and the volume up to see what they could handle, and no matter what we threw at them, they took it in their stride.
The thing is, they're passive speakers so, at the end of the day, they're really only going to be as good as the amplifier and set-up that they're plugged into.
But as long as you know, and are aware of the weaknesses of and what your system is capable of pumping out and how to get the best out of it, Audioengine's P4's will absolutely allow you to make the most of what your system is capable of achieving.
And regardless of the volume and frequency that we subjected them to, they just kept on soaking it up and booming out everything from the Ramones to Leonard Cohen, in all of their raw, pure glory.
The Good, The Bad, And The Not So Ugly
It's almost certainly no secret at this point that we're fans of the way that Audioengine do things and that we're ever so slightly besotted by their passive speakers.
They're beautiful, built to take a beating, are resoundingly durable and hardy, simple to set up, and won't pose a problem to anyone with a sliver of audio knowledge and when they're set in that sweet spot that only you know, they'll deliver the sort of response that you crave and want every single time you switch your stereo on and spin your favorite records.
While we're fans, we're also aware that there are some incidental issues that might affect your decision to plug them in and go crazy with the volume control.
They're bookshelf speakers, and while they're more than loud enough for us in our small apartment, and won't invoke the wrath of our elderly neighbors if you're looking for something with a little more punch and power, then you'll need to look elsewhere.
They're not going to shake the foundations of your home with pure rock and roll fury, and they won't blow your windows out with overdriven bass power.
And there's also the green elephant in the room, which a lot of our fellow audiophiles are slightly reluctant to talk about, and that's the price. For a set of small passive speakers, they're incredibly expensive and if we're honest, you can probably get a lot more bass, and even more technology, for your buck.
Audioengine's build quality and ambition comes at a price and it's one that you'll feel in your pocketbook long after you've set the P4's up.
Audioengine P4 Passive Bookshelf Speakers | Home Stereo High-Performing 2-Way Desktop Speakers (Bamboo)
PREMIUM SPEAKERS THAT OUTPERFORM: The P4 Passive Speakers are beautifully designed to complement your home music system or computer desktop. Rated for 10-125W per channel, you can experience room-filling sound.
FEATURES: The P4 speakers feature a front-ported design and are constructed with custom Audioengine components. 4" aramid fiber woofers and 0.75" silk dome tweeters sit in precision-tuned and hand-crafted cabinets with gold-plated connectors.
WORKS WITH: Most stereo receivers, integrated amps, tube amplifiers, and digital hybrid amplifiers. Looking for an amplifier to pair with? The Audioengine N22 stereo amplifier is designed to complement the P4s.
WHAT'S INCLUDED: Pair of Audioengine P4 Passive Speakers, microfiber speaker bags, setup guide.
WARRANTY: Stellar US based customer support and 3 year product warranty is included. Based in Austin, TX, Audioengine has been changing the way people listen to music since 2005. We believe in the power of music and our passion is to inspire you to listen every day.
Final Thoughts on our Audioengine P4 Review
Despite their few faults, we haven't encountered a set of passive speakers that we fell for as hard as we fell for these deceptively powerful wolves in sheep's clothing.
And at the end of the day, if you don't look carefully at the sheep, you might miss all the heavenly glory that's hidden in their detail.
Last update on 2023-02-07 / Affiliate links / Images from Amazon Product Advertising API