Best Bookshelf Speakers Under $1000
Are you looking to upgrade your home sound system or lack thereof but don't know where to begin? Or maybe you have a small room that needs a sound boost, but bulky speakers would ruin the space?
Look no further, because the solution to your dilemma is a bookshelf speaker. Bookshelf speakers are perfect for small to medium-sized rooms that require a sound upgrade. These speakers allow you to enhance the sound of movies, music, video games – the list goes on – without dominating the space.
Bookshelf speakers are great because, depending on how you want to display them, they can either be hidden out of sight or proudly displayed. You can place them anywhere you like as they are light and compact – perfect for bookshelves, TV units, game stations, and more.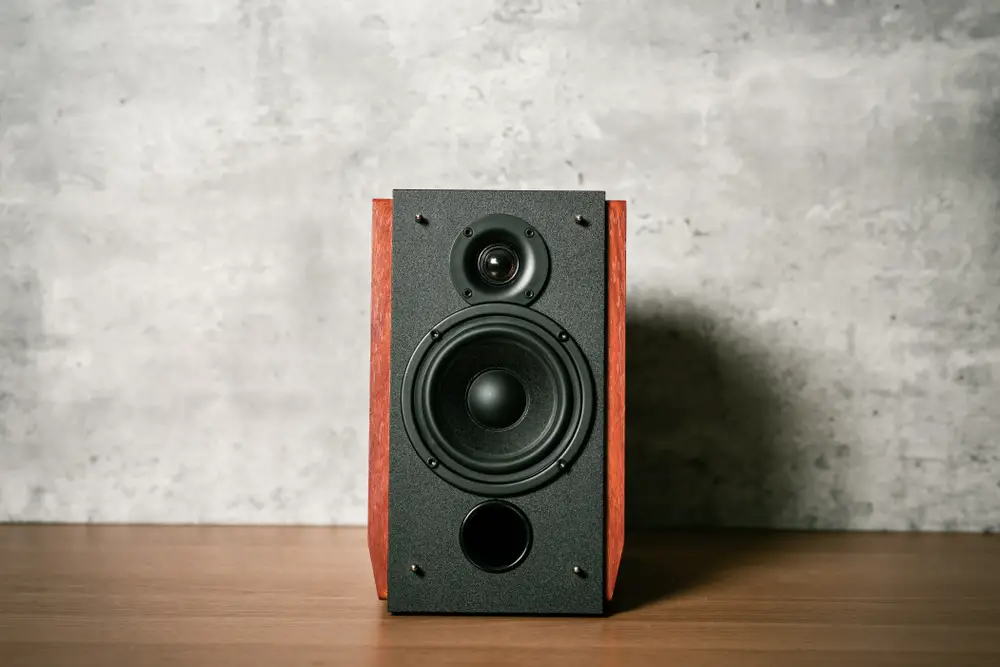 Unfortunately, knowing what to look for when purchasing audio equipment can be tricky and product specifications can be confusing if you're not familiar with the terminology.
Plus, budget is up there with the most important factors to consider, and it can be difficult to know what's worth the money and how much to spend to get what you need out of the product.
So, we've done all the hard work for you!
Read on to find our top 5 best bookshelf under $1000 on the market right now. We've also included a handy buyer's guide, so you know exactly what to look for before making your decision.
Kicking things off with style, the Klipsch 'The Sixes' speakers are a very versatile option that will look great in any room. The slick wood finish will add a touch of class without standing out and appearing bulky.
They connect via Bluetooth wireless technology and will easily pair directly with turntables, computers, TV sets and more – basically any Bluetooth enabled device.
Part of the Klipsch heritage wireless series, these speakers will deliver awesome surround sound and amazing acoustics in any space thanks to the 1-inch titanium tweeters on Tractrix horns. They also come with a handy remote! So, you can control the volume and playback at the click of a button.
The pair also feature 6.5-inch woofers to enhance the bass output. Moreover, they include individual ultra-low noise amplifiers, designed to maximize performance. Plus, you won't need any external amplification.
The dimensions are 11 x 8.63 x 16.75 inches, and they weigh just over 33 pounds so, they're not super lightweight or compact, but they are super stylish and are designed to stand out.
These speakers are incredibly versatile and provide professional-quality speakers for under $1000!
Pros:
Bluetooth wireless technology

– connect easily to any device

Remote control –

super easy to control and from the comfort of wherever you're listening from

Stylish

– smooth walnut finish and copper switches and knobs

6.5-inch woofers

– for a sound with enhanced bass
Cons:
Sensitivity

– Some users have found they're not quite sensitive enough when playing soft/ classical music
Klipsch The Sixes Powered Monitor – Walnut Veneer (Pair)
1" titanium-loaded tweeters with tractrix horns
6.5" woofers with a ported enclosure
1 x pair of RCA phono level inputs with switch for phono/line input versatility (phono Pre-Amp with ground screw terminal)
Bluetooth wireless technology
Next up, the Edifier R1280T Powered Bookshelf speakers are a super affordable option, best for those on a budget still looking for studio sound quality.
While they do not feature Bluetooth wireless technology they make up for this with two AUX inputs to simply connect any device that has a 3.5 mm headphone jack or a dual RCA output. So, you can connect two devices at the same time without needing to unplug or switch between devices.
The pair come with a classic wood finish, giving off a nice 'retro' addition to your home decor. Featuring a silk dome-based tweeter of 13 mm, they deliver the professional sound quality you desire.
Plus, with a 4-inch bass driver, these enclosed bookshelf speakers will provide you with a sound that is bass-heavy and rich.
Adjust the volume without having to be next to the speaker with the handy compact remote control. You also have the option to personalize your sound using the bass, treble and volume dials.
The dimensions are 6.9 x 9.5 x 5.8 inches, and they weigh 10.8 pounds. So, they're a lovely compact edition to almost any space.
So, if it's an affordable but professional bookshelf speaker you're looking for, the Edifier R1280T has everything you need. It also includes a two-year warranty, giving you peace of mind.
Pros:
2x AUX inputs

– allows you to connect to two devices at one time

Retro look

– classic wood finish will look great in any space

Modern studio sound quality

– silk dome tweeter, 4-inch bass driver, adjust bass & treble

2-year warranty

– feel confident your speaker will be long-lasting

Remote control

– compact, control the volume from the comfort of your seat
Cons:
Edifier R1280T Powered Bookshelf Speakers - 2.0 Stereo Active Near Field Monitors - Studio Monitor Speaker - Wooden Enclosure - 42 Watts RMS
2 x AUX INPUT - Convenient connection to any device that has a 3.5mm headphone output or dual RCA output. Connect to two devices via AUX at the same time, no plugging and switching needed. (None Bluetooth version)
STUDIO SOUND QUALITY - Natural sound reproduction from 13mm silk dome tweeter and 4 inch full range unit
REMOTE CONTROL - Adjust volume at your figure tips. Bass and treble control located on the side of main speaker.
CLASSIC WOOD FINISH - High quality MDF wood build finished with wood effect vinyl serves as a great compliment to any home decor.
2 YEAR WARRANTY - Guaranteed high quality and reliability with hassle-free parts and labor warranty for two years in USA and Canada.
The Edifier S1000DB Audiophile Active bookshelf speakers are Edifier's most premium model. If you're willing to throw a little extra cash at your purchase you will get an even more sophisticated sound.
Plus, they look great. These speakers are easily up there with the slickest looking bookshelf speakers on the market right now.
Connect your TV, PC and more using any of the four input channels or connect to all at the same time. For your ease, included with your purchase is a 16-foot connecting cable.
The highly advanced aptX audio codec allows for compressed audio that doesn't lose quality and improves latency issues. So they are great with gaming set-ups for PC's and consoles and deliver epic sound for movies.
You can adjust the volume, bass and treble exactly how you want them using the dials on the back of the panel. Additionally, you can control the volume using the remote control included.
With a 5.5-inch bass driver and DSP (Digital Sound Processing) technology, these bad boys deliver a 120 watt, high-quality sound.
The dimensions are 11 x 8 x 13.5 inches, and they weigh 18 pounds. So, they're pretty wide and won't necessarily fit anywhere, but they're designed to be displayed and will spruce up any room.
Like all good speakers, the S1000DB also come with a two-year warranty to guarantee reliability and performance.
Pros:
Connectivity

– wireless & Bluetooth compatible, they also come with a connecting cable

Quality sound –

aptX audio codec allows you to stream high quality sound with minimal audio loss

Remote control

–

switch input sources and control the volume at the touch of a button

2-year warranty

– guaranteed longevity
Cons:
Size

– they're pretty wide so may not fit in compact spaces
Edifier S1000DB Audiophile Active Bookshelf Speakers - Bluetooth 4.0 - Optical Input - Powered Near-Field Monitor Speaker.
BLUETOOTH 4.0 aptX connectivity – Stream high quality sound wirelessly with minimal loss
OPTICAL / COAXIAL and AUX inputs - Attach the professional studio speakers to multiple sources at the same time
5.5 INCH MID-RANGE UNIT - Coupled with Digital Sound Processing (DSP) technology to deliver 120 watts RMS quality sound
REMOTE CONTROL - Switch input sources and control the volume at your figure tips.
2 YEAR WARRANTY - Guaranteed high quality and reliability with hassle-free parts and labor warranty for two years in USA and Canada.
If you're looking for optimum sound performance and awesome connectivity, and you're happy to throw a little extra cash at it, the Audioengine HD6 wireless speaker is for you!
The 150 watt wireless powered speaker features an integrated Bluetooth system with built-in amplifiers, giving you the audio experience of an audiophiles dream – even from 100 feet away!
Expect high-end sound quality as these speakers are made with high-quality wood cabinets and comes with a 5.5 inch bass driver to deliver a rich depth of sound. They also feature built-in power amplifiers that make the audio that much more incredible. So, you don't need receivers with these speakers.
These speakers come with a handy remote control, a power cord and supply, a 2 m RCA cable, cable bags, speaker bags, subwoofer connection, and a full user-friendly manual.
They can easily connect to any Bluetooth compatible device, turntables with built-in or external preamps, phones, laptops and more. They can even connect to TV's with analog outputs, CD and DVD players.
The dimensions are 15 x 20 x 17 inches, and they weigh just over 37 pounds. So, they're pretty heavy, but their simple rectangular design means they should fit easily into most spaces such as bookshelves or entertainment systems.
Where most only offer a two-year warranty, Audioengine come with a whopping three-year quality guaranty!
Pros:
Connectivity

–

aptX HD Bluetooth codec with 100 foot range 

Sound quality

– features: 150 watt, 5.5 inch driver, built-in amplifiers

Remote control

– ultimate control and comfort

2-year warranty

– for guaranteed quality

Accessories

– comes with a remote control, a power cord and supply, a 2 m RCA cable, cable bags, speaker bags, subwoofer connection and more!
Cons:
Some users have found that they don't sound as vibrant as they would like when connected to record players
Audioengine HD6 150W Powered Bookshelf Stereo Speakers | Home Music System w/aptX HD Bluetooth, AUX Audio, Optical, RCA, 24-bit DAC (White)
POWERED BLUETOOTH BOOKSHELF SPEAKERS WITH INTEGRATED DAC: The HD6 Bluetooth Speakers feature built-in analog power amplifiers that bring you incredible audio. The aptX HD Bluetooth codec with 100 foot range and 24-bit DAC allow you to bypass the low quality sound card in your laptop or phone to deliver premium sound quality with extended wireless range.
FEATURES Perfect for TV sound, it's wireless that works with all your devices and apps, and requires no network setup or passwords. High-end sound wrapped in hand-built wood cabinets and no receiver needed. Optical audio input, aptX HD Bluetooth codec, subwoofer connection and solid metal remote control.
WORKS WITH Turntables with built-in or external preamps, all music players: phones, desktop computers, laptops, notebooks, TVs with an analog output, CD and DVD players, video game consoles and all products with 1/8" mini-jack or RCA outputs
WHAT'S INCLUDED: Pair of Audioengine HD6 Wireless Powered Speakers, Bluetooth antenna, aluminum cased remote control, 4m speaker wire, power supply & cord, 2m 3.5mm mini-jack audio cable, 2m RCA audio cable, microfiber speaker bags and cable bags, setup guide, brochure
WARRANTY: Audioengine builds quality speakers that they stand behind. All Audioengine products come with a 3-year transferable warranty. COVERAGE: Stellar US based customer support and 3 year product coverage is included. Based in Austin, TX, Audioengine has been changing the way people listen to music since 2005. Our passion is creating products that sound great, are easy to use, and make people want to listen to music every day.
Edifier is a brand that puts a huge effort into producing quality speakers to suit any budget. Another awesome budget option from the brand is the Edifier R1290DB powered bookshelf speaker.
Its wireless and hassle-free design is perfect for displaying in your home as you won't have to worry about tucking in wires. It's black and wood finish is stylish and can fit in with any decor.
Simply connect your device via Bluetooth, and you're good to go! With a 13 mm silk dome tweeter and a 4-inch bass drive, these speakers will deliver excellent sound for you to enjoy your favorite music or watch a movie with surround sound.
Sit back and relax, because Edifier also provide a compact remote control with these speakers, so you'll have complete control at your fingertips. Skip songs, change the volume and control Bluetooth devices. Adjust the EQ, bass and treble using the knobs on the side of the active speaker too for a personalized experience.
They also feature an RCA and AUX input for non-Bluetooth devices and the brand have recently upgraded the speakers to include extra inputs, creating a full HD set of bookshelf speakers that can connect to practically anything!
The dimensions are 7.7 x 5.7 x 9.2 inches, and they weigh 11.8 pounds these are a lovely, dainty set of speakers that are lightweight enough to be carried from room to room and compact enough to fit most spaces.
These speakers also come with the two-year warranty, so you're guaranteed quality and longevity with these speakers.
Pros:
Wireless

– display in your home without dealing with tucking away messy wires

Sound quality

– Naturally fine-tuned sound from 4-inch bass and 13 mm silk dome tweeter

Remote control

– control the volume, Bluetooth devices, and song selection

2-year warranty

– plus built with quality wood made to last

Outputs

– added outputs upgrade speakers to a full HD sound, RCA and AUX connections allow analog connection too
Cons:
Some users found the standard bass setting quite muddy and required adjusting to find a nice level
Edifier R1280DB Powered Bluetooth Bookshelf Speakers - Optical Input - Wireless Studio Monitors - 4 Inch Near Field Speaker - 42w RMS - Wood Grain
BLUETOOTH WIRELESS - Popular classic bookshelf speakers now can be enjoyed without the hassle of wires. Simply connection to an iPhone, Android, Tablet, PC or Mac.
STUDIO SOUND QUALITY - Naturally fine tuned sound reproduction from 4 inch bass and 13mm silk dome tweeter.
OPTICAL AND COAXIAL INPUTS - Digital inputs to enable lossless connection to most TV and computers.
REMOTE CONTROL - Adjust the volume and toggle inputs at your fingertips. Bass and treble control located on the side of main speaker.
2 YEAR WARRANTY - Quality components in solid MDF wood housing are built to last. 24 month parts and labor warranty in USA and Canada.
Buyer's Guide for Best Bookshelf Speakers Under $1000
When it comes to purchasing a new bookshelf speaker, there are a few important features to consider before settling on the one for you.
The buyer's guide below provides a breakdown of the key elements to look for and compare.
Depending on your budget, you'll be able to find a speaker that comes with some or all of the features listed – so don't settle for less!
Once you've decided what you need, you'll be able to follow this guide and get the perfect bookshelf speaker for you!
Size
Bookshelf speakers can vary a lot in size so make sure to check the measurements in the product specifications as this will affect how they fit/look in your home.
If you know where in your home you'd like to store the speakers it would be a good idea to measure the space first and adjust your search accordingly to avoid disappointment.
It all depends on if you want the speakers to be a discrete addition to the decor or a stand-out piece.
It's also a good idea to think about the weight of the speaker too, especially if you plan to store it on a floating shelf that may only be able to handle certain weights.
Driver
The driver is what produces the sound, so this is a super important feature to look into. Generally, the larger the driver, the better sound the speakers can produce.
Not all speakers are designed the same, so the placement of the driver can vary as well as the amount of drivers per speaker. These will all affect the sound to be sure to think about that before you buy.
Design
It may seem superficial but depending on how you plan to display your speakers, the way they look and how they add to your home can be super important to people.
A good-looking speaker is always a great bonus. Keep in the mind the colors and materials used, as well as the size.
Typically, the quality of the materials used, will affect the overall sound quality of the audio they produce as well as the durability of the speaker.
Speaker designs tend to either be an enclosed box design or a binding enclosure. Enclosed box designs create a great sound quality but have less space and wiring options that binding enclosures.
Sensitivity and frequency range
The sensitivity is a super important element to consider before buying a bookshelf speaker.
Generally, the better speakers with have a higher sensitivity rate to be able to play even the softest audio to a high standard without it losing any of the low end or high end. It's important to create a full sound rather than a muddy or a tinny sound.
The normal frequency range to expect from a bookshelf speaker is between 20 and 22000 Hz. This is important because it is the limit at which a speaker can generate sound. So, the higher the frequency, the higher the limit.
Frequently Asked Questions
What is a bookshelf speaker?
Bookshelf speakers, as the name suggests, are designed to be placed on bookshelves or other raised surfaces such as entertainment systems or tables.
This is because they are designed to deliver a full room sound in average sized rooms such as bedrooms or living spaces.
What is the difference between active and passive speakers?
Put simply, active bookshelf speakers have built-in amplification and passive speakers do not. Instead, passive speakers need to be connected to a stereo receiver in order to sound their best.
Generally, passive speakers are left to the audiophiles because they like to completely customize and control the sound.
So if you're not up to the task of adding a receiver and adjusting the sound yourself, an active speaker is what you need as they will be set up ready to use straight out of the box.
However, this means active speakers are also typically much heavier and bulkier than passive ones due to the extra components.
Why are bookshelf speakers so expensive?
Depending on the materials and specifications of a speaker, the average bookshelf speaker can cost anywhere between $100 and $700 or even higher. It all depends on what you want to get out of it.
There are a number of features that will affect the price. The higher-quality materials will of course cost a little more. Plus, features such as wireless, Bluetooth, the size of the driver and even the brand can make the speaker less or more expensive.
If you just want an average speaker, anything in the $100 – $300 range will be more than sufficient.
Last update on 2023-02-07 / Affiliate links / Images from Amazon Product Advertising API